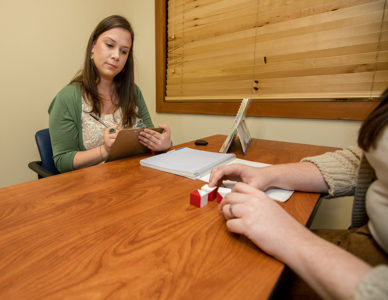 The Master of Arts program in Clinical Psychology is a terminal master's program that provides students with the skills necessary to become master's level practitioners and prepares them for doctoral-level training in Psychology. The program involves four semesters of coursework in research methods and other core areas of psychology, diagnosis of and interventions for behavioral health problems, professional issues in psychology, intelligence and personality assessment, health psychology/behavioral medicine, and community psychology. Students in the Clinical Psychology program are also required to either complete an empirical thesis or complete additional coursework through a non-thesis track. Two clinical practica are taken during the second and third semesters of the program, and a 600-1,000 hour supervised internship completes the program. Graduates of the program are eligible for licensure as Licensed Psychological Associates in North Carolina.
The terminal MA program in Clinical Psychology is no longer offered.
For more information about our PsyD program, please visit https://clinicalpsychpsyd.appstate.edu/.